AI Driven MDR for
High Speed Cyber Defense
AI – Driven MDR


for High Speed Cyber Defense

Tired of a slow, reactive and faceless service. Join us as we change the operating spectrum to a highly skilled HIGH SPEED, HIGH TOUCH Cyber Defense Partner.

Attacks occur at lightening speed. Instead of being able to 'react' well, you need to proactively anticipate, detect and respond to current threats (such as ransomware) and random cyber incidents with action, urgency and excellence.

We leverage AI in our Managed Detection and Response Service to provide high speed cyber defense.

Reporting is the easy part of the job done; execution is complex. Managed information service providers stop with sending alerts and reports. We augment our AI platform with hands-on response and cybersecurity consulting services from one of the largest pool of cyber experts to deliver 24×7 high touch service, executing a wide spectrum of security tasks for you. AI and automated action complemented by HI – Human Intelligence, insights and experience.

Regardless of the scale of your operation – whether a large enterprise or an SME i.e. a small and medium enterprise, you can choose this service that keeps your business ahead and afloat in a fast-paced digital world, at a comfortably scaled and fair cost.

Learn more ⟶
AI Platform with a Solid Foundation

20 years of experience in the Cyber Defense space, delivering safety and security to over 700+ clients through our team of over 1000+ Cybersecurity Specialists, monitoring billions of events per day has formed the foundation of our AI Platform. A feat matched by not many.


On top of it techniques such as Supervised, Unsupervised, Deep Learning as well as NLP – Natural Language Processing, are applied in order to deliver high speed Cybersecurity Services across every stage of a threat's lifecycle.

Each new threat discovered and countered adds to the AI Platform's analytics logic and strengths …

… leading to the solution growing in comprehensiveness and capability with each successful day of deployment.

Painless entry and smooth operations without the need by the customer to build up specialised in-house skills.
Threat Anticipation
Our patent-pending platform mines over 100 TB of global threat data every day to detect new threats, correlate their impact (in seconds) on millions of your assets within your critical infrastructure and networks, and to proactively raise your defenses against the emerging threats most likely coming your way.
Threat Hunting
We deploy 25+ AI models, and 450+ use case scenarios, to proactively search for, and uncover, threats within your endpoint, user, network, and application data. Our AI platform can analyze 100 TB of data in seconds to detect any threat hiding in your network.
Incident Response
When we detect a threat, our AI platform performs automated containment measures—such as deploying 50+ playbook—to quickly remediate your threats. By leveraging our AI-Driven MDR service, you can reduce attacker dwell time—from malware to ransomware—from a months to under 3 days.
What do our MDR Services Offer You
Complete Defense
of your Cyber
Traditional MSSP solutions from cybersecurity service providers leave blind spots in your enterprise defense.

We, on the other hand, offer complete coverage.

Our program and cybersecurity consulting services provide all six components of threat management – intelligence, analytics, SIEM, forensics, cyber incident remediation, and breach management—to protect your critical infrastructure and networks. 

Read more ⟶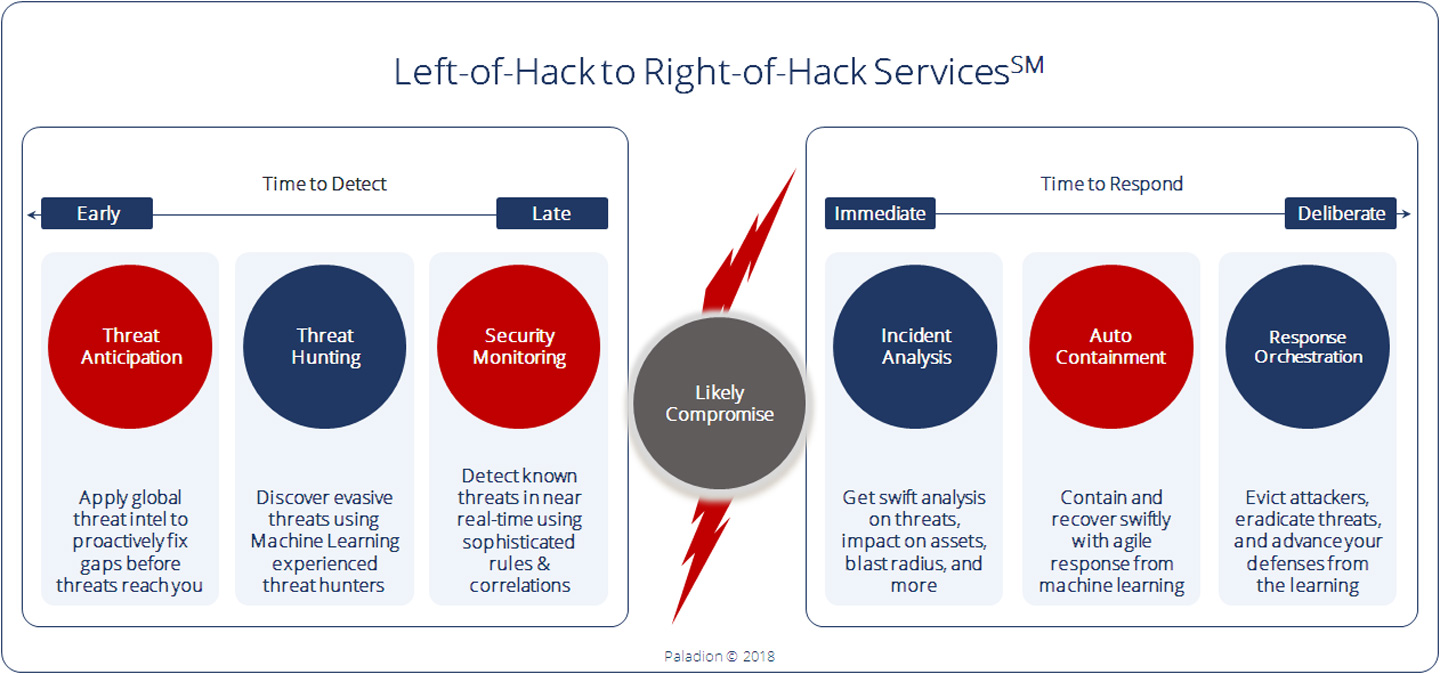 Our threat hunters and AI Platform keep on scanning your entire IT Infrastructure constantly and relentlessly for signs of any emerging threats. Suspicious activity signals from Endpoint Detection and Response (EDR), User Behaviour Analytics (UEBA), Network Threat Analytics(NTA and NFT) and Application Threat Analytics (ATA) are combined, read, interpreted and analysed on a single platform. Information received from all separate silos and their combined interpretation leads to uncovering of blended threats that do not manifest themselves on their own. Modern threats are not easily discernible and only a unified view of all data and its analysis using AI complemented by HI (Human Intelligence) enables us to discover such threats.

Read more ⟶
Action, Urgency, Excellence – Threat Detection and Response

AI ↔ HI Artificial Intelligence guided by Human Intelligence through Cyber Experts
Artificial Intelligence based technology platforms can largely deliver cybersecurity as designed to do. Expert Human Intelligence is however required to constantly finetune AI models, investigate and analyse results, decide remedial actions, coordinate with all stakeholders to get the solutions executed, and then add more parameters to the AI Model if required so that the next set of AI based analysis and results is of a yet higher focus and value.

We offer this combination of Human and Artificial services through hands-on work with cybersecurity consulting services delivered through our large pool of 700+ threat intel analysts, hunters, SOC analysts, investigators, cybersecurity consultants and responders.

And all this in a high speed, high touch fashion. Round the Clock. 24 x 365. In a leap year even 24 x 366 because the predators and their mechanical agents, do not stop working on weekends and holidays or during the nights. The threats remain constant. As should your defense.

Learn more ⟶
We lead in the Cybersecurity Leadership Space
Our Credentials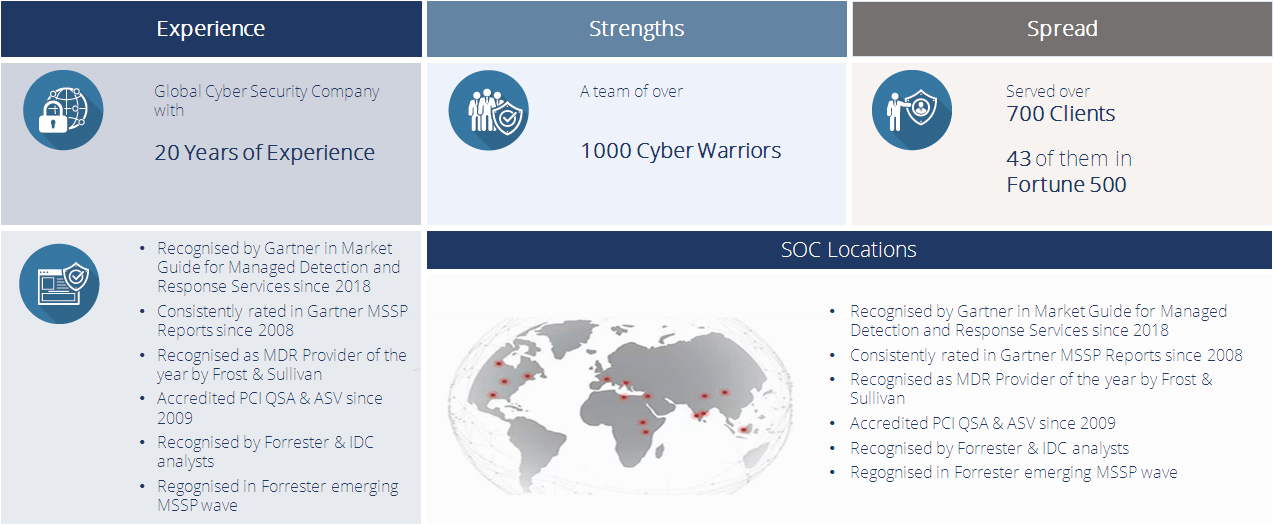 Paladion is a global leader in cybersecurity and managed detection and response - MDR – services.

Call us for protecting yourselves from cyber threats and attacks through utilisation of our wide range of cybersecurity consulting services.